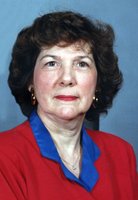 Georgie Hudson May
Georgie Louise Hudson May was born in Frankfort on April 27, 1928 to Charles Hugh Lounsbury Hudson, founder of Hudson's Clothing Store, and Pauline Booron Hendrick. She was proud of her Frankfort heritage. She was raised in the Corner of Celebrities where she lived all of her life. She spent a lot of time at the home (The Terraces) of her great-great-grandfather, Philip Swigert, a prominent businessman and first mayor of Frankfort. The Terraces was on the property where the Paul Sawyier Library currently stands.
Georgie was married to the love of her life, the late William I. May, Sr., on April 18, 1953. They were married for 48 years. She attended Second Street School, was a graduate of Frankfort High School, and attended St. Mary's College in Maryland and The Casements Preparatory School for Girls in Ormond Beach, Florida. She was employed by the Commonwealth of Kentucky for the Dept. of Highways, and was then a stay-at-home mother after the birth of her son. She was a member of the First Presbyterian Church and was involved in the parent organizations at Second Street and Frankfort High where her three children attended school. She enjoyed baking and knitting, and she loved her dogs.
Georgie is survived by a son, Frankfort Mayor William I. May, Jr. (Jenny); two daughters, Georgie May and Charline Quammen (Jeff); a brother, Hugh Hudson, Jr.; seven grandchildren, William I. "B.J." May, III, Ian Kelly May (Brittany), Jessica Criswell, Caitlin Criswell, Connor Criswell, Allison Quammen, and Abigail "Abby" Quammen; one great-grandson, Hudson Toles; and one great-granddaughter, Lillian Kelly May, due to be born on Christmas day.
She was preceded in death by a brother, John B. Hudson; and two sisters, Pauline Howard and Jane Yancey.
Georgie always put others first and will be dearly missed.
Services will be held at the First Presbyterian Church at 2:00 p.m. Thursday, October 5th with the Rev. Sandy Lacey officiating. Burial will follow in the Frankfort Cemetery. Visitation will be from 4:00 to 7:00 p.m. Wednesday, October 4th at Rogers Funeral Home.
Pallbearers will be William I. "B.J." May, Ian Kelly May, Jeff Quammen, Connor Criswell, Commander William R. Howard, Jr., USN, Philip Yancey, Noel Jones, Paul Yancey, Danny Yancey, and Hugh Hudson, III.
Honorary bearers will be Jared Toles, Eric Criswell, and Hudson Toles.