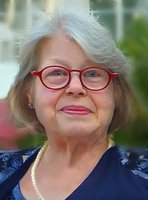 Sally Phipps Zwicker
Sally Phipps Zwicker, 72, passed away on Friday, October 13, 2017.
Born in Frankfort on February 6, 1945, Sally was the daughter of the late Sara Louise Patrick Phipps and Frank Prater Phipps and the widow of Gary Timothy Zwicker. A 1963 graduate of Franklin County High School, she went on to graduate from the University of Kentucky and lived in Lexington for many years before returning to Frankfort. She loved gardening, quilting, knitting, needlework, and music.
Sally is survived by two brothers, Jack Thomas Phipps (Mae Belle) of Frankfort and Frank Patrick Phipps of Port Orchard, WA.
A funeral service will be held at the St. Peter's Anglican Church, 121 E Todd Street, at 1:00 p.m. Tuesday followed by burial in the Frankfort Cemetery. Visitation will be from 6:00 to 8:00 p.m. Monday at Rogers Funeral Home and from 11:00 a.m. to 1:00 p.m. Tuesday at the church.
Flowers are welcomed, while memorial contributions are suggested to L.I.F.E. House for Animals, Bluegrass Hospice Care, or a charity of your choice.