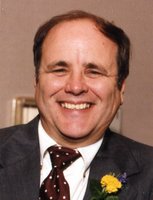 Bobby Riddell
Bobby Joe Riddell, 66, husband of Anne Marie Crockett Riddell, passed away on Monday, October 23, 2017 after a battle with brain cancer. Born on September 17, 1951 in Irvine, Kentucky, he was the son of Sarah Perry Riddell and the late Elmer Riddell and was the owner of Riddell Boiler Service.
An honorary Kentucky Colonel, Bobby was a University of Kentucky and Cleveland Browns fan and an avid fisherman, having always enjoyed his annual fishing trip to Lake Erie with his Owen County friends.
Along with his father, he is also preceded in death by his sister, Doris Riddell, and brothers David, Elmer, Jr., and Danny.
Bobby is survived by five children, Eric Riddell (Andrea), Lynn Riddell, Michael Riddell (Julie), Justin Belisle (Caroline Clipper), and Joseph Mucci. His other great loves were his grandchildren, Sydney Riddell, Joesph and James Riddell, Joselyn Mucci, Hattie Belisle, Rachel Footland, and Rebecca Riddell, and his great-granddaughter, Avery Riddell.
He is also survived by brothers Earl Riddell (Evelyn), Tony Riddell (India), Roger Riddell (Georgia), and Benny Riddell (Brenda); sister Laura Johnson (Alan); and many beloved nieces and nephews.
Many thanks go to the Hospice Care team: Candie, Judy, Nancy, Esther, and Dr. Bell for the excellent care he received at home and to the Hospice Care Center at St. Joseph Hospital in Lexington.

Pallbearers will be Kevin O'Neil, Jimmy Powers, Marshall Riddell, Tom Riddell, Andy Riddell, and Benji Riddell.
Services will be held at Rogers Funeral Home at 10:00 a.m. Friday, October 27th. Visitation will be on Thursday, October 26th from 4:00 to 8:00 p.m.
Contributions in Bobby's memory are suggested to Bluegrass Care Navigators (Hospice) or the St. Vincent de Paul Society.