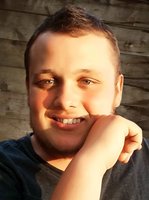 Matthew Ryan Steverson
Matthew Ryan Steverson, 16, passed away on Sunday, November 5, 2017. Born in Frankfort on July 15, 2001, Mathew was the son of James E. Steverson, Jr. and Stacy Steverson.
A student at Western Hills High School, he enjoyed welding and is also survived by a sister, Hannah, and four brothers, Eddie, Tyler, Kyle, and JD.
Services will be held at Rogers Funeral Home at 10:00 a.m. Friday, November 10th followed by interment in the Sunset Memorial Gardens. Visitation will be at the funeral home from 4:00 to 7:00 p.m. Thursday, November 9th.
Pallbearers will be Eddie Steverson, Justin Benton, Tyler Steverson, Corbin Steverson, Hannah Steverson, and Nathan Burns.