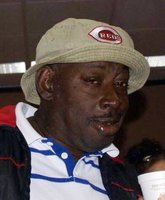 Jeffrey McGee
Jeffrey Jerome McGee, 64, passed away Saturday, December 6, 2017.
Born in Frankfort on September 13, 1953, he was the son of Jenny Barnett McGee and the late Jeffrey McGee, and the husband of Rebecca (Becky) Clifton McGee. A graduate of Franklin County High School, he worked for state government in the Finance Dept. and coached FYFL football, where his teams won the championship four yearsin a row. Jeffrey was a member of First Baptist Church, Clinton Street and a huge U of L athletics fan, who loved cooking and doting on his grandchildren.
Along with his wife, he is also survived by two daughters, Shenell Davis and Brandee McGee; a son, Patrick Wade O'Brien; two step-sisters, Jenette Clay and Audrea Cunningham; a step-brother, Louis McGee; and ten grandchildren.
Services will be at the FIrst Baptist Church, Clinton Street at 12:00 p.m. on Friday, December 22, 2017 with burial following in the Sunset Memorial Gardens. Visitaiton will be at the church beginning at 10:00 a.m. Friday.
Pallbearers will be NaHavian Davis, Jonathan Harvey, Eric Barnett, Sr., Henry Collins, Patrick O'Brien, George McKnight, and Tyrone McGee. Honorary bearers will be Jerry Samuels, I'Ran Clay, Ricky McIntosh, Derrick Hawkins, Jr., Johnny McIntosh, Malik Barnett, DeWayne McIntosh, Eric Barnett, Jr., Robert Lewis, DeShawn Barnett, Wilgur Winkfield, Spencer Barnett, and John Caldwell, Jr..