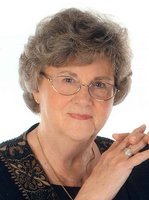 Catherine Sue Care
Catherine Sue "Susie" Care, 79, wife of loving husband Chester "Chet" Care, passed away at 6:15 pm on January 4th, 2018 at Baptist East Hospital in Louisville, KY. She was born in Indianapolis, IN to Lewis E. and Catherine Schutte and is survived by her sisters Marianne and Morry Gladden of Mooresville, IN and Virginia and Ken Scott of Indianapolis, IN. Along with her parents, she was also preceded in death by her former husband Harold Jeffers and her brother Lewis "Lewie" Schutte. The beloved mother of daughters Susan Tileston of Frankfort, KY and Sharon Curnutte of Lexington, KY and son Francis Tileston of Frankfort, KY, Sue had three grandchildren and five great-grandsons with one on the way. Her extended family includes David Care of Lexington, KY, Linda and Tom Crowder of Chicago, IL, Laurie and Doug Stephenson of Winchester, KY, and Lisa and Parresh Watson of Winchester, KY.
Sue was an active member of First Christian Church in Frankfort, KY for many years and was retired as the head of auto transit at Bluegrass Community Action in Frankfort, KY where she had continued to serve. She was a member of several organizations and active in helping others through creating programs and funding to help many people in need. She supported Girl/Boy Scouts and was a member of Sierra and Red Hats as well as other organizations. Incidentally she had been president of the United States Canoe Association in the 60's.
Sue was kind, loving, and generous. She loved family, nature, shopping, traveling, and BEARS. Her endless wisdom, heart and advice have impacted many.
A memorial service will be held at the First Christian Church on Friday, January 19th at 12:00 pm with visitation preceding at 10:00 am.
Memorial donations in lieu of flowers may be made to the charity of your choice in her honor and online condolences can be expressed to the family and friends at www.facebook.com/sue.jeffers.96.