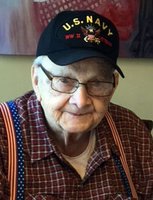 Tony Cecconi
Joseph Anthony "Tony" Cecconi, 91, of Frankfort, passed away peacefully at home, surrounded by his family and friends, on Monday, January 8, 2018.
Tony was the son of the late Joseph and Gugliema Cecconi. Besides his parents, he was also preceded in death by his wife, Jo Wanda Tune and his sister Josephine Cecconi. He is survived by his brother, John William Cecconi, Springfield, Kentucky, his son Michael Cecconi, Seal Beach, California and his daughter, Lisa (Harper) Smith, Frankfort. He is also survived by his one grandson, Macon Smith, Frankfort.
Tony was born and raised in Springfield, Kentucky. His parents emigrated to the United States from Italy and eventually came to live in Springfield. He attended St. Dominic School, Springfield High School and Lafayette Vocation School. He was a retired draftsman with the Kentucky Dept. of Commerce and was a long-time member of Good Shepherd Catholic Church and the VFW Post 4075.
Tony was a veteran of World War II. He was proud to serve our country and entered the US Navy on his 17th birthday, August 18, 1943. He traveled around the world while serving and was based in several ports throughout the world, including Scotland, England, France, Isle of Man, San Francisco, Napa, Hawaii and Japan. He participated in two major campaigns, Normandy, (D-Day) and Iwo Jima.
In addition to fishing and artwork, Tony loved sports, especially baseball, basketball and football. During the 1960's and 70's, he coached Pop Warner football where his son, Michael played as quarterback. His White team always had a winning season. Beginning in 1953 and for nearly 30 years thereafter he coached Pee Wee League, Minor League, Little League and Babe Ruth baseball in Frankfort. He was a major, lifelong UK football and basketball fan. He took great joy in his grandson Macon's participation in sports, very seldom ever missing his baseball or basketball games or even practices. He was known by some at the Western Hills baseball concession stand for his Tony Cecconi Coney dogs which he made for every game.
Tony was a long time supporter of L.I.F.E. House for Animals where he adopted his two companion kitties, Sinatra and Rylee. These two were a great enjoyment to him and he loved them dearly.
Tony was a loving, big hearted, loud, sweet man who loved to give hugs. He never met a stranger and enjoyed talking to anyone willing. He made friends wherever he went and most who met him would not forget him. He will be greatly missed.
The Mass of Christian Burial will be held at the Good Shepherd Catholic Church on Friday, January 12th at 12:00 pm with burial to follow at the Frankfort Cemetery. Visitation will be on Thursday from 4:00 pm to 8:00 pm at Rogers Funeral Home.
Pallbearers will be Harper Smith, Bill Tatum, John Cecconi Jr., JP Cecconi, Jim Cecconi and Sam Cecconi. Honorary pallbearers will be Debbie White, Kimberly Gaines, Tim and Kim Johnson, John Gantley and Arthur Kelly.
Flowers are welcome or memorial contributions may be made to L.I.F.E. House for Animals, 14 Fido Court.