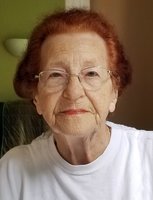 Nancy Johnson Wilson
Nancy Johnson Wilson, 95, Versailles Road, Frankfort, widow of Maurice June Wilson, died Thursday, January 11, 2018 after a brief illness. She was born January 14, 1922 in Estill County, daughter of the late Jim and Minnie Crowe Johnson. She was a retired seamstress and floor lady at Ashland Craft. After living with her husband in Ashland for over 50 years, she moved to be with her daughters in Frankfort upon his passing in 2007. She was also preceded in death by her son, Jerry Lynn Wilson.
After moving to Frankfort Nancy devoted her considerable energy and generosity to the Capital City Senior Activity Center. For nearly 10 years she offered seamstress services to the community with all proceeds being donated to support the operations of the Center. The Center estimated that her total donated earnings reached nearly $100,000, all used to support critical elderly services such as Meals on Wheels. She received several citations and awards for her volunteer work, including being named the DIAL 2015 Kentucky Volunteer of the Year.
Nancy was a long-time quilter and fabric artist. She called herself the "Appalachian Rag Painter" and many of her quilts and wall hangings were displayed around the state. Her fabric creations brought joy to many, and she was rewarded with ribbons and prizes, including two at the Kentucky State Fair.
Nancy died just three days shy of her 96th birthday. She lived long, was happy, and was much loved. She spent her last evening having her favorite cherry pie at "Free Pie Wednesday" with family and friends, closing out the remainder of the night tapping her toes to bluegrass music on KET. She passed quickly, painlessly, and with each hand held by a daughter who loved her.
Survivors include two daughters, Wanda June Eastman and Ginny Wilson (Bronwyn Miller), both of Frankfort; daughter-in-law, Mary Wilson of Rush, two granddaughters, Robin Jessee and Heather Walker; two great-grandchildren, Brett Jessee and Chelsea Walker; and two great-great-grandsons, Kalab Owens and Klatyon Sutherland. Special friends were Kaye Triplett, Lynn Medina, Dottie Dunlap, and Hasmukh and Surekha Patel.

Visitation is to be Thursday, January 18 from 5 p.m. to 7 p.m. at Rogers Funeral Home in Frankfort. Burial service will be Friday, January 19 at 1:00 p.m. at Toler Funeral Home in Irvine. In lieu of flowers, she requested that donations be made in her memory to either the Capital City Senior Activity Center or the Franklin County Humane Society.