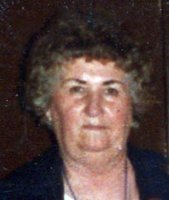 Margaret Temple
Margaret Francis Temple, 93, passed away on Sunday, January 21, 2018.

Born on May 31, 1924, she was the daughter of the late Otis Edward "OT" Gordon and Tishia Etta Shouse Gordon. A native of Waddy, she
was a member of Pigeon Fork Baptist Church and was a Kentucky Colonel.

Margaret is survived by her sons, Billy Temple Sr. (Joan) of Frankfort, Freeman Temple of Frankfort, and Earl Temple (Linda) of Shelbyville; grandchildren Mary Hollingsworth, Billy Temple Jr., Eric Temple, and Bethany Temple; great-grandchildren Chasity Moore, Jesika Tracy, Linsey Temple Courtney, Kyle Temple, Kayden Pierce, and Kaylee Jewell; and great-great grandchildren Alizjah Bowman, Sawyer Courtney, and Saydee Courtney.

She was preceded in death by two sisters, Edith Hayes and Lucille Whitehouse, and a brother, Raymond Gordon.

Services will be held at Rogers Funeral Home at 2:00 PM Wednesday, with visitation preceding at 10:00 AM. Burial will be in the Sunset Memorial Gardens.

Pallbearers will be Eric Temple, Billy Temple Jr., Zac Courtney, Kyle Temple, Mitchell Letulle, and Michael Gardiner.

Honorary Bearers will be Bobby Cheshire and Johnny Clark.