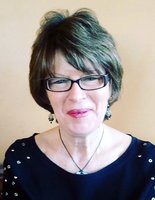 Alla Holland
Alla Sue Holcomb Holland, 66, passed away on January 24, 2018. The daughter of the late Hollis and Lorene Faye Sherman Holcomb, she was born in London, KY on September 14, 1951 and graduated from Lily High School in 1969. She later lived in both Lexington, KY. and Ft. Wright, KY, and was the former C.E.O. of C&O United Credit Union. Alla had also served on several boards in her community, most recently the Credit Union National Association (CUNA) and the Children's Home of Northern Kentucky (CHNK). She was an avid University of Kentucky and Cincinnati Reds fan and enjoyed cooking, traveling, and fabulous shoes.
Alla is survived by two daughters, Melissa Holland of Columbus, OH and Amy Zopff (Andrew) of Lawrenceburg, KY; a sister, Joyce McPhetridge (Harold); a brother, Col. Darrell H. Holcomb, USAF (Ret.) (Joyce); a brother-in-law, David Atkinson; two grandchildren, Drew and Holland Zopff; and several nieces and nephews. She was preceded in death by her husband, Ronald David Holland, and a sister, Pamela Atkinson.
Services will be held at Rogers Funeral Home at 4:30 pm Sunday with visitation preceding at 2:30 pm. Visitation will also be held in London at the London Funeral Home from 1:00 to 2:00 pm on Monday, prior to a graveside service at 2:00 pm in the A.R. Dyche Memorial Park.
Pallbearers will be Neil McPhetridge, Harold McPhetridge, David Atkinson, Daniel Atkinson, Ryan Kluempke, and Tim Carter.
Honorary bearers will be The Sewing Circle - Gail Pennington, Karen Vannasdall, Ellen Hackman Ziegler, and Brenda Israel.
Contributions in Alla's memory are suggested to Bluegrass Care Navigators (Hospice) or the Children's Home of Northern Kentucky (CHNK).