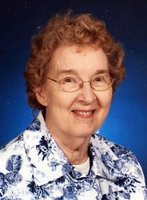 Ethel Winner
Ethel Gangwer Winner, 89, died peacefully on January, 25, 2018. She was born on July 4, 1928, in Knoxville, TN, to Horton and Thelma Gangwer. She is survived by Presley Winner, her loving husband of 61 years.
Ethel graduated from the University of Tennessee with a master's degree in Child Development. She taught at Ohio University, where she met Presley, and Ohio State University. After having children, she was a homemaker for a number of years before returning to work as a disability determiner for the State of Kentucky. She and Presley retired in 1994 and enjoyed traveling, playing bridge and visiting grandchildren. She was an avid reader and expressed a competitive spirit in card-playing and all aspects of life.
Ethel was preceded in death by her twin sister Catherine Grovenstein and is survived by her sister Sue Hayes, brother Horton (Bud) Gangwer, children Beth (Paul) Manci of North Augusta, SC, Wid (Sarah) Winner of Santa Claus, IN, John (Adrienne) Winner of Abu Dhabi, UAE, and Lois (Michael) Stemmler of St. Louis, MO. She and Presley had nine grandchildren, Catherine and Grace Manci; Joy (deceased), Shelby and Rachel Winner; Hannah and Mackenzie Winner; and Palmer and Sara Stemmler.
A memorial service will be held on Saturday, February 3rd at 3 p.m. at South Frankfort Presbyterian Church, 224 Steele Street. Visitation will follow the service.
Memorial contributions can be made to South Frankfort Presbyterian Church.