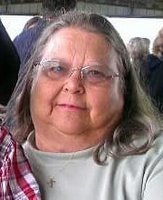 Mary "Frankie" Bertrand
Mary Frances "Frankie" Bertrand, 66, passed away on Thursday, February 8, 2018.
Born in Frankfort on April 26, 1951, Frankie was the daughter of the late Grover Lawrence Leitch and Dorothy Edee Bostain Leitch. She is survived by her husband, Larry Bertrand; two daughters, Tina Lavy (Glenn Hankins) and Jade Bullen (Alfredo); a son, Andy Bertrand; two sisters, Pam Polly (Don) and Peggy Lewis (Bobby) ; a brother, Tommy Leitch (Linda); seven grandchildren and one great-grandchild.
A graduate of Good Shepherd School, she worked as a legal secretary for the Public Service Commission and was a member of Good Shepherd Church. She enjoyed reading and spending time with her grandchildren, and adored her dogs.
The Mass of Christian Burial will be held in the Good Shepherd Catholic Church at 10:00 a.m. Tuesday followed by burial in the Sunset Memorial Gardens. Visitation will be held at Rogers Funeral Home on Monday from 4:00 to 7:00 p.m.
Pallbearers will be Austin Kendall, Mikail Mays, Bailey Lavy, Nick Mays, Jesse Bertrand, and Andy Bertrand.