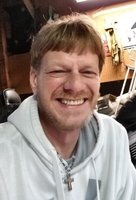 Johnny "Daryll" Ballinger
Services for Johnny "Daryll" Ballinger will be held at Rogers Funeral Home on Wednesday, March 14th at 2:00 pm. Visitation will precede at 1:00 pm. He gained his heavenly wings on March 7, 2018.
Daryll was born in Franklin County on July 22,1970 to the late William (Billy) E. Ballinger and Lula M. Ballinger (Ethington) and was a former mechanic for the Franklin County Public Schools. He is survived by two daughters, Samantha Ballinger and Devon Ballinger Schroder, and a son Steven R. Ballinger. In addition to his mother Lula M. Ethington he is also survived by four sisters, Denise E. Quire, Kemberly S. Ethington, Stephanie Ethington, and Christine E. Mattingly; seven grandchildren; and several nieces and nephews. He was preceded in death by his father, William E. Ballinger, and a step-father, Dee R. Ethington.
Pallbearers will be Josh Schroder, Dewayne Wilson, Cameron Bingham, David Semones, and Matthew A Tolliver. Honorary bearers will be his children and grandchildren.
In Lieu of flowers, contributions to Rogers Funeral Home for funeral expenses are appreciated.