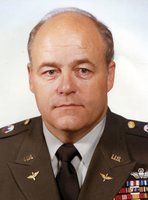 LTC (R) W. "Sandy" Goin
LTC (R) Willoughby S. "Sandy" Goin III, 77, passed away on Saturday, March 10, 2018.
Born in Frankfort on June 27, 1940, Sandy was the son of the late Willoughby S. Goin II and Frances Plowman Goin. After graduating from Frankfort High School in 1958, he served two tours in Vietnam. He was the recipient of the Silver Star, two Distinguished Flying Crosses, the Bronze Star, 48 Air Medals, and the Kentucky Medal of Valor. A Master Aviator, he logged over 12,500 flying hours, both military and civilian. Following his retirement, Sandy remained active with the National Guard and Boy Scouts, and in his free time enjoyed woodworking, camping, and the Coffee Club at McDonald's.
Sandy is survived by his wife of 30 years, Mary Sue Johnson Goin; a sister, Mary Watkins; three daughters, Fairen Goin Wells (Jeff) of Georgia, Nancy Goin Manson (John) of Florida, and Erin Willoughby Goin of Frankfort; two step-daughters, Joanna Webner (Frank) of Shelbyville and Tammy Dunlap (Wayne) of Indiana; three grandchildren; one great-grandchild; four step-grandchildren; four step-great-grandchildren; and several nieces and nephews. He was preceded in death by two sons, Andrew Justin Goin and Christopher Wade Goin; and two sisters, Peggy Wood and Linda Rogers.
Services will be held at Rogers Funeral Home on Thursday, March 15th at 1:00 pm with burial following in the Frankfort Cemetery. Visitation will be at the funeral home from 4:00 to 8:00 pm Wednesday and 10:00 am to 1:00 pm Thursday.
Pallbearers will be Paul Dunaway, Ike Pinkston, Scott Wood, Brian Abney, Ben Adams, and Clay Anglin. Honorary bearers will be John Manson, Jeff Wells, Logan Wiler, Harold Cannon, Jason LeMay, Ronnie Wise, Fred Burch III, and Fred Burch IV.
Contributions in Sandy's memory area suggested to the Franklin County Humane Society or the Salvation Army.