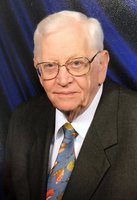 William M. Johnson
William McEwan Johnson, better known as "Will" or "Little Bill", died on Monday, March 12, 2018. He was preceded by Susan Johnson, his wife of 43 years.
He was a graduate of the University of Louisville with LLB and JD degrees, and was in the private practice of law from 1959-2017. During that time, he served as the First Friend of the Court for Franklin Circuit Court and was Master Commissioner for 24 years. He served on the board of the Frankfort YMCA for 50 years; was a member of the Board of Trustees of the Kentucky Bar Center from 1986 to 2015; and was Chair of the Board of Trustees of the Frankfort Cemetery. Since 1984, he has been a member of the Board of Directors for First Federal Savings Bank and is Chancellor of the Church of the Ascension (Episcopal).
Will is the youngest of the six children of Benjamin P. Johnson, Sr. and Mary Belle Murray Johnson. His sisters Mary J. Grayson and Ruth J. Goin and brothers Benjamin P. Johnson, Jr., and Louis M. Johnson are deceased, and brother James Harrison Johnson of Owensboro survives.
Also surviving are Will's children: Trudi (Harry Carver) Johnson of Frankfort, Patricia J. (Richard) Hawthorne of Lexington, Christine M. (Peter) Goodmann of Frankfort, and Joseph Marion Roger (Lindsey) Johnson of Frankfort; six grandchildren: Will Goodmann, Bret and Patrick Hawthorne, and Megan, Emma Cait, and Ellie Johnson; four great-grandchildren: Lilly, Cooper, Harrison, and Olivia Hawthorne; and numerous nephews and nieces.
Services will be held at the Church of the Ascension (Episcopal) at 2:30 pm Thursday with visitation preceding at 11:00 am. Interment will follow in the Frankfort Cemetery.
Pallbearers will be Will's nephews, A. Frank Goin, Kenneth Goin, William H. Grayson, and Benjamin P. Johnson III, and grandsons Patrick Hawthorne and Bret Hawthorne.
Memorial contributions may be made to the Johnson Memorial Music Fund at The Episcopal Church of the Ascension, 311 Washington Street.