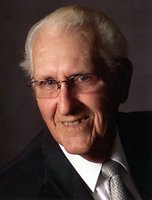 Robert Mauer
Robert Allen Mauer, 87, passed away on Sunday, March 18, 2018. Robert was the husband of the late Kathleen Moore Mauer.
Born in Frankfort on November 7, 1930, Bobby was the son of the late Erich Charles and Virginia King Mauer. An Army Veteran of the Korean conflict, he was retired from Jim Beam and also worked at the Franklin County Farmers Market and volunteered at the Good Shepherd Catholic Church, of which he was a longtime member. A lifetime member of the Franklin County Sportsman's Club, he enjoyed farming, trap shooting, and clockmaking.
Bobby is survived by two daughters, Ginny Gatewood (Jeff) and Barbara Bond (Tim); a son, Rob Mauer (Gayleen); six grandchildren; and five great-grandchildren. He was preceded in death by his many brothers and sisters.
The Mass of Christian Burial will be offered in the Good Shepherd Catholic Church on Thursday, March 22nd at 11:30 a.m. with Father Charles Howell presiding. Interment will follow in the Sunset Memorial Gardens. Visitation will be at the church from 9:30 to 11:30 a.m. Thursday.
Pallbearers will be Chad Atha, Charles Fisher, Jeff Gatewood, Nick Crouch, Stephen Smith, and Dan Mauer.
Memorial contributions are suggested to Good Shepherd Catholic Church.