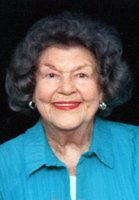 Elizabeth Turner
Elizabeth Hunter Turner, 93, of Frankfort, passed away on Wednesday, March 21st at the Hospice Care Center at St. Joseph Hospital in Lexington.
Elizabeth was a strong and determined woman who had fought and survived cancer twice, but this third time cancer won. She loved people, shared a contagious smile with everyone, and is no doubt sitting with Jesus now telling stories about all of us, her horses from childhood, and her beloved pets.
She was a member of First United Methodist Church where she was in the Women's Bible Class and Wesleyan Guild. She enjoyed friends, food, and fellowship at the Frankfort Senior Activity Center where she attended the weekly Bible class and was the substitute class leader, was a Red Cross volunteer, was a member and volunteer with the VFW Women's Auxiliary and American Legion Women's Auxiliary, and enjoyed volunteering at the Lexington VA Medical Center.
For many years, Elizabeth was a member of the Beta Theta Chapter of Beta Sigma Phi, and from early 1950 she was the owner and operator of Elizabeth's Beauty Shop, a job she enjoyed for over forty years. During this time she served as a member and officer in the Hairdressers and Cosmetologist Association, frequently organized fundraisers and service projects for the Senior Citizens Center and nursing homes.
Elizabeth was preceded in death by her parents, Jesse and Ollie B. Hunter; a sister, Agnes Hunter Moberly (PC); seven brothers, Floyd Hunter (Esther), Jesse Coleman Hunter (Edna), George Donley Hunter, Ernest Hunter (Marlene), Bosley Hunter (Wanda), Nelson Hunter (Joyce), and Lucian Hunter.
Survivors include a daughter, Linda Turner Funk (John) of Elizabethtown; two grandchildren, Edith Megan Funk of Tarboro, North Carolina and Joseph William Funk (Shawna) of Elizabethtown; one great-grandchild, Eliana Noelle Funk; a sister, Virginia Hunter Jensen (Bill) of Reno, Nevada; several nieces and nephews; and her beloved dog Freddie.
Services will be held at Rogers Funeral Home at 11:00 a.m. Monday, March 26th with Dr. Phil Hill and Rev. Jack Brewer officiating. Burial will follow in the Richmond Cemetery.
Visitation will be at the funeral home from 9:00 to 11:00 a.m. Monday.
In lieu of flowers, gifts in Elizabeth's memory may be made to the Frankfort Red Cross, the American Cancer Society, or the Frankfort Senior Activity Center.