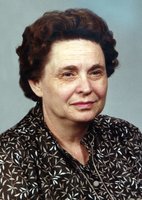 Matilda "Tillie" Mitchell
Matilda Jackson Mitchell, 84, passed away on Tuesday, March 27, 2018.
Tillie was born on March 2, 1934 to the late Smither Jackson and Anna Moore Rogers. A graduate of Elkhorn High School, she was a lifelong member of the First Baptist Church, and was a member of the Franklin County Homemakers Association for several years, also serving as President. She enjoyed cooking, reading, sewing and quilting, and will be remembered for making the world's best fruit preserves and for taking care of and spoiling her grandchildren.
Tillie is survived by her husband of 65 years, John H. Mitchell; a daughter, Gail Mitchell Hoyt (Bill); a son, Robert Owen Mitchell (Stacy); four grandchildren, Hannah and Jessica Mitchell and Ginny and Andrew Hoyt; and three nephews, Allan, Mike, and David Leigh.
She was preceded in death by a sister, Mary Jo Leigh.
Services will be held at Rogers Funeral Home at 2:00 pm Friday with visitation preceding at 12:00 pm. Burial will follow in the Frankfort Cemetery. Dr. Robert Browning will officiate the services.
Pallbearers will be Bill Hoyt, Andy Hoyt, Mike Leigh, Allan Leigh, David Leigh, Don Sturgeon, Jim Neal, Larry Moore, John Crittenden, and Tom Crittenden.
Honorary bearers will be Rick Morris, Don Yancey, Bill Gayheart, Buddy Demerson, and the East Side McDonald's Group.
In lieu of flowers, contributions are suggested to the Franklin County Humane Society.