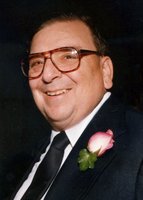 Gordon Feldhaus
Leslie Gordon Feldhaus, 86, passed away on Wednesday, April 4, 2018. Gordon was the husband of Beulah M. Cottongim Feldhaus and the father of Julie Ann Feldhaus Edwards (Chris), Tim Feldhaus, David Feldhaus, Jody Feldhaus, and Andrew Feldhaus (Karen). He is also survived by eight grandchildren.
Born in Louisville on March 24, 1932, Gordon was the son of the late Leslie Joseph and Helen Amelia Yeager Feldhaus. A graduate of Male High School and the University of Louisville, he was a US Army Veteran and worked as a chemist for the Ky. Cabinet for Human Resources. He was a member of the Good Shepherd Catholic Church.
Services will be held at Rogers Funeral Home at 11:00 a.m. Saturday with burial following in the Frankfort Cemetery. Visitation will be at the funeral home from 4:00 to 8:00 p.m. Friday.
Pallbearers will be Mathew Cottongim, Steve Cottongim, Greg Cottongim, Edward Cottongim, and Josh Cottongim.
Honorary bearers will be Gordon's grandchildren.
Memorial contributions are suggested to Bluegrass Care Navigators (Hospice).