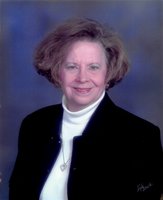 Juanita Holland
A good friend and loved one to so many, lifetime Franklin County resident, Juanita Monroe Holland passed away on Saturday, June 16, at the Heritage Hall in Lawrenceburg, Kentucky, following a long heroic battle with cancer.
All who knew her will agree she remained strong, determined and refused to give-in to this illness for many years. Juanita lost her beloved husband of more than 20 years, Russell Holland, in 2001.
She loved and shared Russell's children as her own, Sara Raylyn Holland (Louisville) and Russell Neal Holland (deceased); three grandchildren and five great-grandchildren.
Juanita is survived by three sisters, Connie Miller Smither, Bonnie Miller Woolums; and 17 nieces and nephews.
She had a great sense of humor and enjoyed hosting family and friends in her home, especially during the holidays. In the last few years, her constant companion was her dog, RyRy — who received hours of attention in her lap.
Juanita retired from a distinguished career in state government. In addition, for more than 30 years, Juanita enjoyed a second career in interior design.
No one really knows how many homes and offices in Franklin County Juanita's "design eye" contributed too, but she loved advising and consulting on every project. Another passion she enjoyed was flowers.
Members of the First United Methodist Church in downtown Frankfort will attest to the grand and glorious arrangements Juanita regularly had placed in church for members to enjoy.
Visitation will be Sunday, June 24, at Rogers Funeral Home, 507 W. Second St., Frankfort, Kentucky, from 4-7 p.m. The memorial service will be held on Monday, June 25, at the First United Methodist Church, 211 Washington St., in downtown Frankfort, at 10:30 a.m.
Juanita requested that memorial gifts be directed to the First United Methodist Church for use in her two favorite volunteer activities, their music and holiday programs.