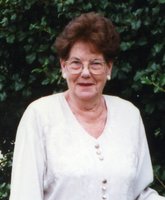 Anne Goettel
Barbara Anne Goettel, 91, widow of Charles Harry Goettel, died Thursday, December 13, 2018.
Born in Louisville on July 14, 1927, Anne was the daughter of the late Ben F. and Margaurite Tasker Mitchell. She attended Georgetown College where she was a member of the Kappa Delta sorority, and went on to work as a professional draftsperson. She was a member ot the Garden Club and Capital Steppers Good Timers, and enjoyed playing tennis, swimming, line dancing, cooking, sewing, and embroidery. She enjoyed her children, grandchildren, and great-grandchildren very much.
Anne is survived by her son Chris Goettel; daughters Paula Cleveland, Becky Goettel, and Jeannie Fish; sister Margaret Ashcraft; brother Bob Mitchell; seven grandchildren; and nine great-grandchildren.
The Mass of Christian Burial will be offered in the Good Shepherd Catholic Church at 12:00 pm Monday with visitation preceding at 10:00 am. Burial will follow in the Frankfort Cemetery.