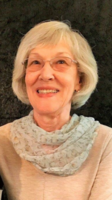 Martha McClain
Martha "Marty" Houk McClain, age 73, of Frankfort passed away on Sunday, December 30, 2018. Visitation will take place at Rogers Funeral Home on Friday, January 4, 2018 from 4 p.m. until 7 p.m. Services will be held at Rogers Funeral Home on Saturday, January 5, 2019, at 11 a.m. Burial will follow at the Frankfort Cemetery.
A native of Hart County, Martha was born November 30, 1945. She graduated West High School in Columbus, Ohio in 1963. She also attended Campbellsville College. Other places she lived were Montgomery, Alabama; Shelbyville, Kentucky; Hampton, Virginia; and Columbus, Ohio. She also served in the Air Force Sergeants Association Auxilary.
Martha worked as a secretary at the University of Alabama, as a self-employed Court Reporter in Frankfort, and retired from the Commonwealth of Kentucky in 2012 as a Legal Secretary. She also had a personal business, Let's Face It! (face painting). She painted at the Kentucky State Fair and other events and especially enjoyed painting children's faces. It meant so much to her to see children's faces light up when they saw her work. Her hobbies included lobbying for Kratom (a natural healing herb) and face painting.
She is survived by two daughters, Alexandra Seyberth (Jerry) and Kelly Devine; two sisters, June Kelly (Benny) and Margi McGuire; four grandchildren, Courtney May, Ben Seyberth, Bonnie Seyberth, and Charlie Seyberth; and five great grandchildren, Landon May, Audrina Seyberth, Bentley Seyberth, Addison West, and Arabella Seyberth. Martha was preceded in death by her parents, Francis and Joseph Houk.
Flowers are welcomed. However, expressions of sympathy may be made in lieu of flowers to Bluegrass Care Navigators (Hospice), 663 Teton Trail, Frankfort, KY 40601, or to Kratom United, PO Box 4587, Frankfort, KY 40604.