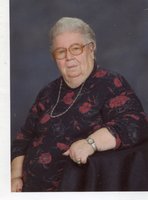 Freeda Munson
Freeda Mae Munson, 86, passed away at her home on Friday, December 28, 2018.
Born in Owen County on June 27, 1932, Freeda was the daughter of the late Sterling and Berdie Neal Munson. She leaves behind many special friends at Buck Run Baptist Church and Kings Daughters Apartments.
Freeda was a graduate of Elkhorn High School and had been employed by Kings Daughters Hospital, Newberry's, Burch's Appliance, and the Kentucky Board of Engineers and Land Surveyors. She enjoyed spending time and volunteering at the Franklin County Senior Activity Center and was a member of Buck Run Baptist Church where she worked with the women's missionary group and spent several decades volunteering in the nursery.
A memorial service will be held at Buck Run Baptist Church at 11:00 a.m. Friday. Contributions in Freeda's memory are suggested to Buck Run Baptist Church's Lottie Moon Offering for International Missions.