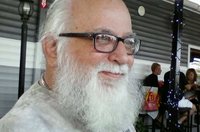 Mark Lenz
Mark F. Lenz, 67, passed away on Tuesday, January 1, 2019.
Born in Louisville on December 3, 1951, Mark was the son of the late William F. and Juanita Bruce Lenz. He was a graduate of Fern Creek High School and the University of Kentucky, attended the University of Louisville for post-graduate work, and worked as an IT specialist for Kentucky Retirement Systems.
Mark is survived by two sons, Tucker and Cody Lenz, and a brother, Bruce Lenz. He was preceded in death by a son, Christopher Lenz.
A memorial service will be held at Rogers Funeral Home at 3:00 p.m. Sunday with visitation preceding at 1:00 pm.