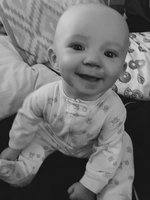 Bently McDonald
Bently Clay Wayne McDonald, the beloved son of Cheyenne Graves and Bradly McDonald, passed from this world on January 15, 2019.
From the moment he was born on July 13, 2018, he was a source of profound joy to all who met him. He will be deeply missed for his sweet spirit, his wide and curious eyes, his easy and infectious laugh, and his eagerness to see and do and taste all the world around him had to offer. This 'little lump of love', as his mother called him, will be forever missed by his large and loving family until they meet again.
Visitation will be held on Tuesday, January 22, 2019, from 4-6 pm at Rogers Funeral Home, 507 West 2nd Street, with a funeral service to follow at 6pm. Flowers or expressions of condolence may be sent to Rogers Funeral Home.