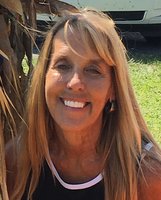 Marie Stone
Marie Barber Stone, 59, passed away on Wednesday, January 30, 2019. Mrs. Stone was the wife of Ricky Stone and is also survived by a son, Steven Early (April); grandsons Dylan and Jaxon Early; and a sister, Beverly Sue McDonald (David).
Marie was born in Frankfort on June 17, 1959 to the late Robert and Helen Cohorn Barber. She attended Franklin County High School and ran a daycare out of her home for ten years. A loving wife, mother, and grandmother, she enjoyed gardening and spending time with her family and friends.
Marie was preceded in death by a sister, Joan Lane Wilhoite; and three brothers, Robert Lee Barber (Nancy), Ronnie Wayne Barber, and Danny Mason Barber.
Visitation will be held at Rogers Funeral Home from 3:00 to 6:00 p.m. Sunday, February 3rd. Funeral services will be at the funeral home on Monday, February 4th at 1:00 p.m. followed by interment in the Cedar Grove Cemetery in Stamping Ground.