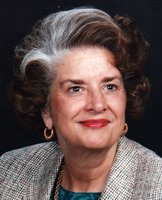 Mildred Browning
Mildred Padgett Browning of Frankfort, Kentucky passed away Tuesday, January 29th, 2019.
Mildred was born in Marshall County on March 23rd, 1929 to Clarence Padgett and Genella Dunn. She attended Murray State College and worked for an advertising agency in Nashville before moving to Frankfort. In 1953, she married John Buckingham Browning Sr., who served as the Assistant Attorney General for Kentucky.
Mildred often worked for the Kentucky General Assembly over a span of 50 years. She was employed by Farmers Bank for 27 years and was the founder and director of The Capital First Ladies, later known as Capital First Travelers.
She was a proud Kentuckian and a true Southern lady who enjoyed history, gardening, travel, and entertaining family and friends. She was a member of the Daughters of the American Revolution and the Colonial Dames of America. She was a faithful member of the First United Methodist Church and enjoyed serving her community.
Mildred was loved by her family and many friends for her wit and sense of humor, vibrant personality, loyal friendship, kind heart, and empathy for all.
She is preceded in death by her husband, John Browning Sr., twin sister Margaret Perry, and brothers John and Tom Padgett. She is survived by her three children; John Browning (Laveta) of Frankfort, Martha Doss (John) of Urbana, Ohio, and Margaret Glenn (Charles) of Lexington. Six grandchildren; Emily Browning (Javier Oseguera) and Erin Browning, Frankfort; Matthew Doss, Columbus, Ohio, Samuel Doss, Urbana, Ohio; Gordon Glenn, Chicago, IL, Julia Glenn, Lexington. Three great-grandchildren; Isabella, Julian and Jayden Oseguera, Frankfort.
A service in celebration of Mildred's life will be held Saturday, February 9th, 2019 at 11:00 a.m. at the First United Methodist Church, 211 Washington St., Frankfort. Please join the family in a celebration of Mildred's life in the church's auditorium immediately following the service.
In lieu of flowers, please consider donations made to the First United Methodist Church.