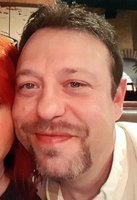 Franklin Rice, Jr.
Franklin D. Rice, Jr. 48, husband of Susan Thornton Rice, passed away Monday, July 1, 2019.
Born in Nuremberg, Germany on March 19, 1971, he was the son of Franklin D. Rice, Sr. and the late Bridgette Oppenlender Rice. He is also survived by his sister, Tina Rice; brother, Billy Tomlin; daughter, Jessie Rice; step-daughter, Katlin Thornton Gray; step-sons Ronnie and Dylan Emery; and several grandchildren, aunts, uncles, nieces, and nephews. He was preceded in death by a step-son, Cody Emery.
Services will be held at Rogers Funeral Home at 3:00 p.m. Friday with visitation preceding at 1:00 p.m. In lieu of flowers, the family requests contributions be made to the funeral home to assist with expenses.