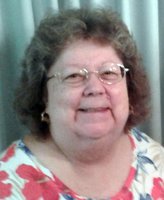 Sarah "Sally" Goodchild
Sarah (Sally) Kendrick Goodchild of Seffner, Florida, departed this world for heaven at the age of 71 years. Sally will be forever remembered by her sister, Martha Spruitenburg (Rik), nephew, Rik Spruitenburg (Sabrina), niece, Cathy Koos (Dave) and great-nieces Carolyn and Danielle.

At an early age, Sally developed a love of learning. Her time in school was spent expanding her excellence in education. Sally graduated from University of Louisville (Woodcock Honor Society) as a French major in 1969. Sally worked for Humana, based in Louisville, Kentucky, which is where she met lifelong friend, Patti Campbell.

Being fiercely independent she moved from her home state to Florida. She worked setting up and managing several Med First facilities. She finished her career of service to others working with Humana's Senior Friends.
Sarah loved animals, especially cats and owls, and could frequently be found online at the Molly & McGee "Owl Box". She loved her family, accepted change, believed in loyalty and honesty and was unwavering in her faith in God. She will be welcomed in heaven by her parents, Sam and Sue Kendrick.
The funeral service will be at 11:00 am on Saturday, August 24 at Rogers Funeral Home, and the family will receive friends beginning at 10:00 am. Burial will be at Evergreen Cemetery in Louisville immediately following the funeral service.

In lieu of flowers, gifts can be made in her honor to the National Kidney Foundation, the University of Louisville Woodcock Society, or The Little Loomhouse in Louisville, or simply shine some Light in your corner of the world by volunteering at a local charity.