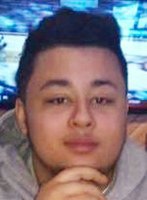 Henry Rodgers III
Henry Lee "Stretch" Darren Rodgers III, 21, was born on July 11, 1998 in Frankfort, Kentucky. He departed this life on September 2, 2019. Henry was the son of Henry Lee Rodgers, Jr. of Frankfort and Stacy Obertate of Louisville.
Henry is a 2017 graduate of Frankfort High School and Capital Academy where he received an apprenticeship certification in welding. Henry was currently employed as a line operator by Faurecia Automative Seating of Simpsonville. He enjoyed fishing with his father, Joe Pullium and Danny Young, video games with friends, working on cars and spending time with his family and his special friend Pops.
He is preceded in death by his paternal grandparents, Essa Mae & Henry Lee Rodgers, Sr. of Frankfort; his aunt Elizabeth Rudolph of Frankfort; his great-aunts Brenda Jabr of Frankfort and Carole Martin of Harlan; and his cousins Jimmy Hunter of Harlan and Christopher Hunter of Frankfort.
Henry leaves to cherish his memory and to mourn his passing his loving and devoted father and mother; six sisters, Karen Carter of Versailles, Cathy Rodgers of Frankfort, Nicole Rodgers of Frankfort, Kayla White of Frankfort, Marissa Bailey of Eminence, and
Savanna Groves of Louisville; eleven nieces and nephews; three aunts, Shirley Cleveland, JoYvonne Parrish, and Susan Griggs, all of Frankfort; three great- nieces, one great-nephew; and a very special friend, Dalyss Downey of Frankfort.
Services will be 11:00 am Friday at Rogers Funeral Home with visitation preceding at 10:00 am.