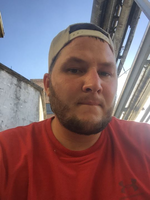 Chase Moseley
Chase Patrick Moseley, 28, son of Albert Lee Moseley and Kathryn Mitchell Woosley, passed away on Thursday, September 5, 2019.
Chase was born in Frankfort on September 4, 1991. He enjoyed fishing and being outdoors, working on cars, and playing with his son.
Along with his parents, he is also survived by his son Carson Allen Moseley, brother Jordan Moseley, fiance Alyssa Hammermeister, niece Sophia Moseley, and nephew Sawyer Moseley.
He was preceded in death by his grandparents, Kenneth Holton Mitchell, Elizabeth Nickles Mitchell, Robert Lee Moseley, and Eleanor Lutz Moseley.
Services will be held at Rogers Funeral Home at 7:00 p.m. on Tuesday, September 10thwith visitation preceding at 5:00 pm.
Glyndon Woosley, Sr. will officiate the services. Honorary pallbearers will be Jacob Taylor, John Estes, Ashton Frantz, Sophia Moseley, and Sawyer Moseley.