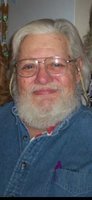 William Harvey Ray
William Harvey Ray, 71, died Tuesday, October 22, 2019 at his home after a brief illness.
He leaves his wife of 48 years, Sandra Kay Ray of Frankfort; his daughters, Sandra Adams (Lewis) and Meredith Whitson, both of Frankfort; his grandchildren, C.J. Whitson (Kimberly Sargart), Lesha Whitson, Aaron Adams (Mandi), Courtland Adams, Kira Adams-Mattingly (Philip), and Christopher Adams; and his great-grandchildren, Bentley Whitson, Layla Donaldson, Primrose Mattingly, Easton Adams, Jadyn Gilreath, and Cole Gilreath.
Born on July 12, 1948, Harvey was raised in Frankfort, Ky, the son of the late Clemmie Massie Baker and the late William Hartwell Ray. Harvey grew up the older brother to three surviving sisters, Jane Ray Boggs (Ricky) and Patsy Ray Long, both of Lawrenceburg, and Billie Jo Baker Parker (Robert) of Frankfort. He is also survived by many nieces and nephews.
Harvey was known as a loving family man by his family and friends. Harvey enjoyed music and was a musician, playing in many local country and gospel groups throughout his life.Harvey also enjoyed jobs where he could help others - working with adults with disabilities and working housekeeping in both the Kings Daughters hospitals.
Harvey belonged to the Frankfort Seventh Day Adventist Church where he served the Lord as an elder for many years.
Harvey spent his last years enjoying time with his grandchildren and great-grandchildren. He also had a heart for ministry and spreading the gospel.
A funeral service will be held on Friday, October 25th at 3:00 p.m. at Rogers Funeral Home. Visitaiton will begin at 1:00 p.m.