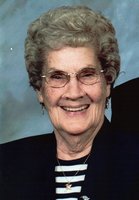 Evelyn Devers
Evelyn Devers, age 93, passed away Wednesday, November 20th at Norton Hospital in Louisville following a long illness. She was retired from Union Underwear and a member of North Fork Baptist Church.
Evelyn is survived by two daughters, Karen Sue Mahoney (Don), and Barbara Brewer (Roger), both of Frankfort; four grandchildren, Angie Estes (Darren), Leslie Kennedy (Matt), Carri Barnett (Kenny), and Casey Mahoney (Cassie); twelve great-grandchildren, and one great-great-granddaughter.
Visitation will be held at Rogers Funeral Home on Monday, November 25th from 11:00 am to 1:00 pm with funeral services beginning at 1:00 pm. Burial will follow at Sunset Memorial Gardens.