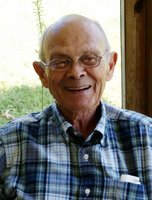 Robert Stephanski
Robert Gray Stephanski Jr., or most well known as "Bo Bo", passed away November 28th at Crestview Center in Shelbyville from complications of Alzheimer's. He was born September 13, 1934 to Robert Gray Stephanski, Sr. and Margaretta Weitzel Stephanski.
He is survived by his children, David Alan Stephanski, Linda Carol Stevens, and Kathryn Ann Stephanski; grandchildren Alex Stephanski, Chris Stephanski, Ian Stephanski, Jonathan Cummins, and Lauren Johnson; two great-grandchildren; brother Walter N. Stephanski; and several nieces and nephews
Robert attended Good Shepherd School and graduated in 1953. He then joined the Army National Guard and began working for Sorg Sheet Metal before going into business for himself as Stephanski Heating & Air. He installed the first central air system in Good Shepherd Church which is believed to have still been in use when the new church was built. He was a member of Elks Lodge #530 for 56 years and loved to bowl and go fishing. He and his fishing buddies traveled from Canada to Florida and anywhere in between to catch the best fish.
Robert was a good, honest man, well liked by all. He moved to Naples, Florida to care for his mother, and after her passing in 2005 he moved to Okeechobee so he could fish everyday. He eventually moved back to Kentucky where he lived with his daughter Kathy for the past several years until his passing.
Funeral services will be held at Good Shepherd Catholic Church at 12:00 pm Wednesday, with visitation from 10:00 am to 12:00 pm. An Elks service will be held at 11:30 am. In lieu of flowers, memorial contributions are requested to St. Vincent DePaul Society.