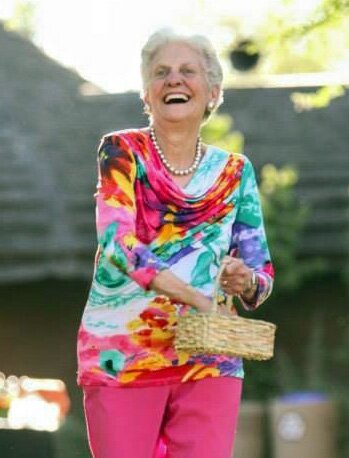 Obituary of Ann Peel
Please share a memory of Ann to include in a keepsake book for family and friends.
Ann Macklin (Badham) Peel, age 91, passed away at home on March 28, 2022, following a chronic illness. Born in Chicago, Illinois on September 8, 1930, to A. W. Macklin and Dorothy Cummins Macklin, the family relocated to Frankfort, Kentucky in 1943. She graduated from Frankfort High School at age 16 and went on to attend the University of Kentucky where she graduated in 1951 with a Bachelor of Arts degree in Anthropology. While studying at the University of Kentucky, she was chapter President of Kappa Kappa Gamma sorority and became Panhellenic President as well. Upon graduation she moved to Dallas, Texas to work for Drilling Magazine and there met and married Hugh M. Badham. She was married from 1952 to 1963 and, as a divorcee, returned to Frankfort to raise her four children alone along with her basset hound Beauregard (who, via his warm and friendly personality – and constant search for handouts – became very well known to downtown Frankfort establishments and State offices). Her career in state government started in research in the Capitol Annex building and progressed to where she became Director of Research in the Kentucky Department of Commerce. She also served several years on the Legislative Research Commission. During this time, she met and married the love of her life, James L. Peel, in 1974 and they blended their families into one cohesive unit. Jim and Ann traveled the world and would share their adventures with family and friends showing enthusiasm and joy at being together. Jim referred to his love as 'Big A' and he'd often serenade Ann with little songs whenever she'd walk in the room. Their deep love for each other was a joy to witness. In their late 50s and 60s they spent a lot of time running for exercise and entered several races where Ann won in her age group. Ann spent much of her retirement from State Government taking care of family and friends – some at the end of their lives and some at the beginning. Ann became primary caregiver for her mother, Dorothy, until her death and then took care of her father's sister, Aunt Caroline, until she passed. During her final years she lived in one of the condos on the top floors of the Capital Plaza Hotel and was a charter member of the group that maintained "Wine Time" at 5pm every day. The group loved her very much and agreed to move the 5pm meetings into her apartment when she became homebound and wouldn't have been able to attend otherwise. She is survived by her brother - Dr. A. W. (Shirley) Macklin; her children - Jane (Jim) Bartram, Beverly (Chris) Hillenmeyer, Dr. Vernon C. "Mac" (Louise) Badham, William Terry (Sara) Badham; 13 grandchildren - John, Angela, Allison, Christopher, Martha, Laura, Alexander, Maegan, Will, Daniel, Jacob, Kaylan, and Taylor; and 12 great-grandchildren; along with 5 nieces and nephews - Leslie, Lynn, Melissa, Alexander, and Jonathan. She was preceded in death by her son Hugh M. Badham, Jr. and her husband James L. Peel - both in 2009 - along with her sister Susan Macklin Dunn in 1979. Visitation will be Friday, April 1st at the Church of the Ascension between 11:30 am and 1:00 pm, with the service at 1:00 pm and a reception following. Burial will be at a later date. Memorial contributions are suggested to Bluegrass Care Navigators, Paul Sawyer Public Library, or the Backpack Buddies program for Franklin County and Frankfort Independent Schools.