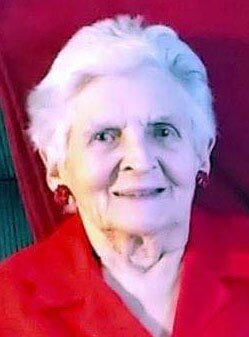 Obituary of Mary Dan Tinsley
Please share a memory of Mary Dan to include in a keepsake book for family and friends.
Mary Dan Taylor Tinsley, 93, widow of Albert Earl Tinsley, passed away peacefully at home surrounded by family on Saturday, January 21, 2023. Mary Dan was born in Frankfort, Ky. on December 2, 1929 to the late Dan W. Taylor and Mary Catherine Lannon Taylor. She graduated from Good Shepherd High School and was a member of Good Shepherd Catholic Church in Frankfort as well as St. Lawrence Catholic Church in Lawrenceburg. Growing up, Mary Dan worked hard on her parents' farm. Her professional career began at 11 years old pumping gas and closing the station at night! Mary Dan later became a bookkeeper at H-B Milk Co. in Frankfort and then became a Vice President at Farmers Bank and Capital Trust Co. where she worked for 30 years. Mary Dan always enjoyed her bridge club, all her friends in Cloverdale, and her co-workers. She loved making popcorn balls and other such treats, and watching Johnny Carson, Tom Jones, and Mitch Miller on television. Mary Dan excelled at putting others before herself and always strived to make any unpleasant task fun or at least bearable. She enjoyed the friendship and support of so many friends and family members, and was always a go-to person, no matter the situation. Mary Dan loved talking to her neighbors in the Avenstoke community, and was especially proud of Hannah Disponett. She loved holidays and could be counted on to be making her bourbon balls at Christmas time. Mary Dan welcomed everyone and never met a stranger. She could always offer some food and words of encouragement. Mary Dan wanted everyone to celebrate her life by living theirs to the fullest. Mary Dan is survived by her three children, Frank Joseph (Judy) Tinsley, Richard Woodford Tinsley, and Sarah Elizabeth (Mark) Brewster; four grandchildren, John Patrick (Kristi) Tinsley, Joseph Lannon (Tiffany) Tinsley, Christopher Bradley (Allison) Brewster, and Benjamin Albert Tinsley; eight great-grandchildren; one great-great-granddaughter; a sister, Lucy Easley; and a brother, Billy Bob Taylor. She was preceded in death by her husband Albert Earl Tinsley; son John Lannon Tinsley; sisters Bernadine (Pippy) Stahl and Margaret Ratliff; and brothers Joe Taylor, Ned Taylor, and Frank Taylor. A gathering of family and friends will take place at Rogers Funeral Home on Saturday, February 18th from 11:00 am to 4:00 pm. A memorial service officiated by Fr. Chris Clay will begin at 1:30 pm. The family would like to thank Bluegrass Care Navigators and Father Chris Clay for their kindness and compassion displayed to their family in the last few months. Memorial contributions are suggested to Bluegrass Care Navigators (Hospice).