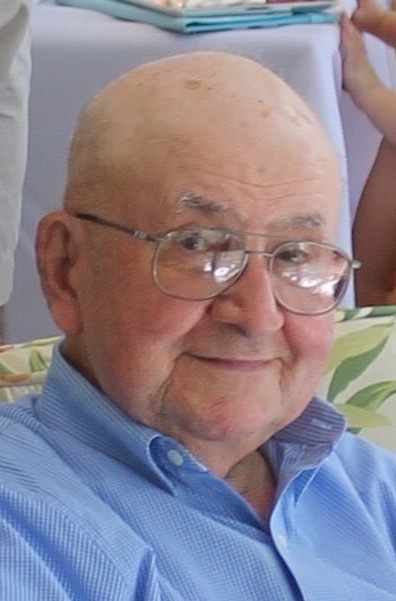 Obituary of Quarles Arnold, Jr.
George Quarles Arnold, Jr. passed away Monday, July 10, 2017. Visitation will be Sunday, July 16, 2:00 – 4:00 p.m. at Capital City Christian Church, 15 Locust Lane in Frankfort with funeral services Monday July 17 at 1:00 p.m. at Rogers Funeral Home. Officiating will be John Sutphin, Executive Minister, Capital City Christian Church.
Mr. Arnold is survived by his wife, Ailleen Wheeler Arnold; four children, Judy Lee (Bruce), Amy Ballard (David), Jenny May (William), and Chris Arnold (Candi); 11 grandchildren; and 11 great-grandchildren. He was the son of George Quarles Arnold and Cora Smither Arnold and was also preceded in death by his brothers, James M. Arnold and Edward Arnold and sisters, Anna Jane Carlton and Emmaline Arnold.
Mr. Arnold was a World War II veteran serving in the Asiatic-Pacific Theatre in a Construction Battalion in New Guinea and the Philippine Liberation. After receiving an Honorable Discharge in 1946 he returned home to the family farm. In 1948 he was introduced to the love of his life, Ailleen Wheeler and began a two week courtship culminating in a marriage proposal on Valentine's Day. He and Ailleen started their family in a small farm house and began the laborious task of everyday farm life, tending to a variety of crops and livestock, feeding farm hands, planting gardens and harvesting the works of their labor. In 1956, a portion of the Arnold farm was sold to the Franklin County School Board which now comprises the present day Franklin County High School Campus. In 1963, the remaining farm was sold and developed into the final phase of the Indian Hills Subdivision.
After selling the farm, Mr. Arnold began his career in state government serving as a Laboratory Technician for both the Division of Air Pollution for 8 years and later the Division of Water with Natural Resources, Department of Environmental Protection retiring in 1988. In addition to his regular job he purchased, built, developed, and maintained several pieces of residential and commercial real estate with Ailleen serving as his business manager.
Staunch supporters of education, both Mr. and Mrs. Arnold participated and attended many school activities, athletic events, concerts and volunteered countless hours in support of their children and grandchildren. In his early adult years he taught Tractor School for the FFA organization and in later years supplied labor and equipment for the construction of athletic facilities at Franklin County High School.
Although not an official member of civic organizations, Mr. Arnold's daily life was an example of kindness, generosity, and compassion for his family, his friends, and countless strangers he encountered in everyday life. "…thus by their fruit you will know them." Matthew 7:20. As a member of the "Greatest Generation" he embodied the characteristics and traits of that time: Love of God, love of Family, love of Country, service and sacrifice for the greater good. He and Ailleen were former members of the Frankfort Road Church of Christ where he served as song leader and trustee; and later joined Capital City Christian Church.
Pallbearers will be Mr. Arnold's grandsons, John Lockhart Lee, Jeremy Dooley, William I. May, III, Kelly May, Zach Arnold, and Grayson Arnold. Honorary bearers will be Bob Rash, Jeff Carlton, George M. Arnold, Tony Hyatt, and Ron Cicerello.
In lieu of flowers, donations may be made to the Salvation Army, ACCESS Soup Kitchen, and Bluegrass Care Navigators (Hospice).